Ace Cafe Finland
Bikes, Cars, and Rock´n Roll
Ace Cafe Finland was founded in 2011 and it is the first Ace Café outside of London. The original Ace Café London was established in 1938.  Now Ace Cafes have spread all over the world! Check all the Ace Cafés HERE.

The Finnish Motorcycle Museum and Ace Cafe are closed from the beginning of October to mid-April.
During the winter season we arrange
private events and we usually work
at the upstairs office of the Museum
from Monday till Friday 10am-4pm.
If you want to visit the Museum,
please call +358 400 712 310 or +358 447 207 918
On weekends we can receive groups to the Museum,
as long as they are booked beforehand.
Ace Cafe restaurant
food and events
Ace Cafe offers delicious burgers, fresh salads and finger food, something for everyone!
During summer and until last days of September Ace Cafe offers its customer variety of different events. You can find almost all motorcycles' brands' presentation and test drive days from Ace Cafe.  Every month's second Saturday we arrange American Car Cruising with live music! All the events are free! Other live music and rock'n roll conserts are held also and you can check all our events from our calendar! 
We have a terrace with a view to Lake Vesijärvi and we offer our customers free parking and wifi.
Tourists from over 30 countries have found us and Finland's Motorcycle Museum.
event calendar
EVENTS DURING WEEK AND EVERY WEEKEND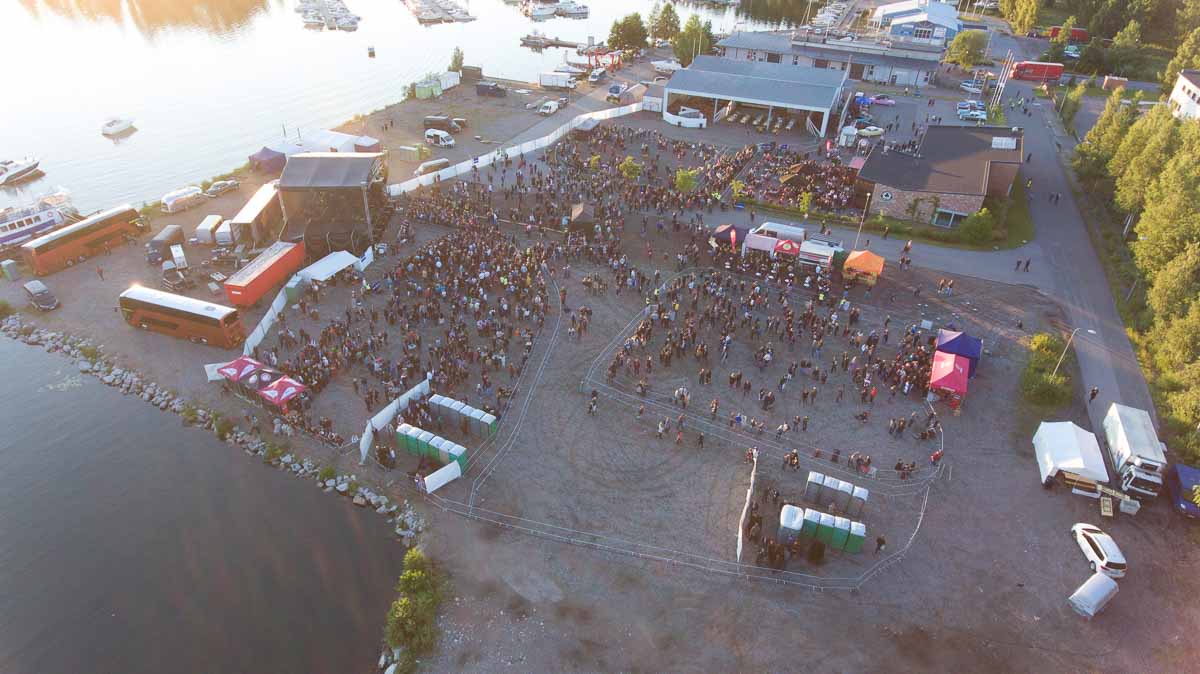 thu 30.4. OPENING
thu 30.4. First of May Cruising
MAY
sun 5.5. Triumph goes to Ace
sat 11.5. American Car Cruising (18.00-)
sat 18.5. Skate'n Spray day. Skating, painting and graffitis by Inspis. Free entry.
JUNE
sat 1.6. Moto Guzzi and Ducati test drive & exhibition.
sun 2.6. Triumph goes to Ace (14-17)
sat 8.6. Cars & Coffee (12.00-). KTM test drive & exhibition. American Car Cruising. Performer: Pretty Wild Ones (18.00-).
wed 12.6. Trunk flea market (16-20)
sun 16.6. Children's Day. Free event for families.
sat 29.6. Kopteri British Bike Day (11-15), by Kopteri-magazine. Mods & Rockers -meeting.(11-16)
JULY
thu 4.7. Alcatrazz featuring Graham Bonnet. 4th of July Rock Party. Rainbow's ex-singer Graham Bonnet and his band Alcatrazz is performing at Ace Corner (US). (20.00-)
sat 6.7. Kawasaki test drive & exhibition and Triumph goes to Ace.
wed 10.7. Trunk flea market (16-20)
sat 13.7. Cars & Coffee (12.00) American Car Cruising. Performer: Texas Oil. (18.00-)
sat 20.7. Chargers (18-)
sun 21.7. Blood donation event for bikers. This event is organized with Finnish Red Cross.
AUGUST
sun 4.8. Triumph goes to Ace
sat 10.8. Cars & Coffee (12.00) American Car Cruising. Performer: Greased Lightning (18.00-)
wed 14.8. Trunk flea market (16-20)
sun 25.8. Sidecar & Trike -meeting (12-16)
SEPTEMBER
sun 1.9. Triumph goes to Ace
sat 7.9. Mobilisti Jamb-O-Ree (11-16), by Mobilisti-magazine.
sat 14.9. American Car Cruising. Performer: Wishing Well. (18.00-)
sat 28.9. American Car Show & Cruising. Performer: Night Nurse (18.00-)
Continual meetings:
Porsche – every thursday
Mercedes Benz – every months second monday
Mini- ja British Cars – every months last wednesday


History of ace cafe
since 1938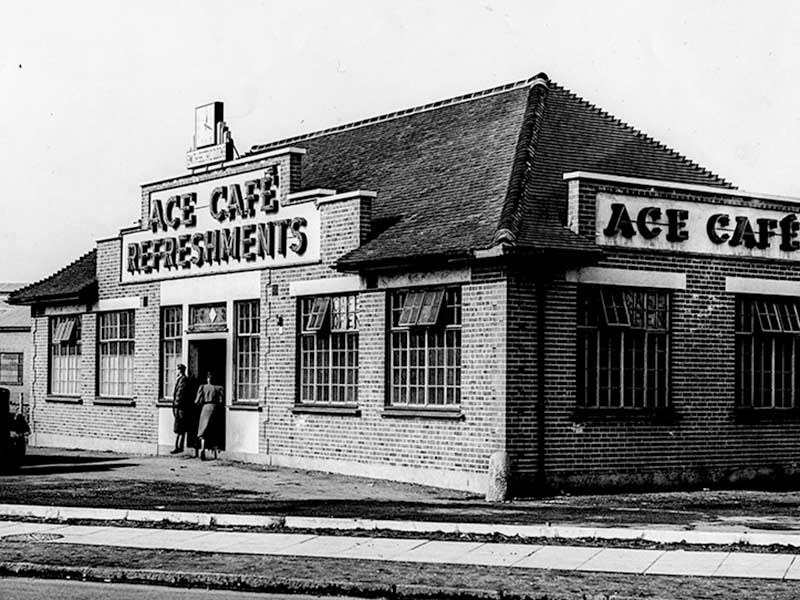 The Ace Cafe was established in 1938 on the then brand new North Circular Road surrounding London. It was a simple roadside Cafe catering to travelers, particularly truckers. With its proximity to Britain's fast arterial road network, and being open 24 hours, the Ace Cafe soon attracted motorcyclists too.
Year later the Ace Service Station featured eight petrol pumps, all catering for different brands. During the war period the pumps provided an all-night service. Also featured was a "Washmobile" believed to be the first automatic car wash in the UK.
 On 16th November 1940, the cafe received a direct hit from a bomb during the blitz of London in WWII and was completely destroyed. Apparently no one was killed or injured.
After the war the Ace Cafe was reopened in temporary accommodation and subsequently rebuilt in 1949.

Finland's Motorcycle Museum
100 unique motorcycles
In the same building with Ace Cafe is Finland's Motorcycle Museum that was founded same time as the Ace Cafe. Motorcycle Museum has over 100 motorcycles and historical items related to motorcycling. Themes in Museum change every year. This year's theme is 100 years of Motorcycling in Finland. Museum shares the same opening hours with Ace Cafe. 
Rikuo Motorcycle Story
one of a kind story
The Stranger-Than-Fiction Saga of Rikuo,
Harley Davidson and the Birth of Japanese Motorcycle
In 1935 Sankyo Company acquired a license to manufacture Harley-Davidson motorcycles in Japan. A part of the deal was that the bikes could not be exported outside of Japan and that the bikes would be called Rikuo, a name that roughly translates to "the king of the roads."
With Alfred Richard Child at helm, the mass production of RIKU'O started. This marked a beginning for Japan's large motorcycle industry. The original RIKU'O factory was destroyed in the Hiroshima bombings.
Only a handful of Rikuo bikes exist outside of Japan and Riku Routo has a bike so unique that even Japanese collectors are not known to have one. The bike in question, a RIKU'O 1200 with a sidecar, found its way to Russia during the war from where Riku Routo salvaged it in 1996 – in its original shape.
Read More HERE

Ace WORLD
all-around-the-world
Ace Cafe London
Ace Corner
North Circular Road, Stonebridge
London NW10 7UD, United Kingdom
https://london.acecafe.com/
 Map
Ace Cafe Orlando
100 W. Livingston Street, 
Orlando, Fl 32801
(corner of Livingston & Garland)
Map
www.acecafeusa.com
Ace Cafe Barcelona
Carrer de les ciències, 105
08908 L'Hospitalet de Llobregat
Barcelona
Map
www.acecafebarcelona.com
Ace Cafe Beijing
Train Square, 751 D-Park (798)
Jiu Xian Qiao Rd, Chaoyang District
Bejing, China
Phone: +86 (0) 10 8456 7989
Map
acecafe.cn


Ace Cafe Luzern
Sonnmatthof 2, 6023 Rothenburg
Luzern, Switzerland
acecafeluzern.ch
 Map
Contact us: info@acecafelahti.fi +358 400 712 310